Unravel is a DataOps observability platform that enables your data teams to optimize the cost of your data operations intelligently, run faster data pipelines, and troubleshoot mission-critical applications. Instead of just showing an overwhelming set of KPIs that often require domain expertise to discern, Unravel correlates and analyzes a full stack of data sources to provide easy-to-understand insights and actionable recommendations. This greatly reduces the complexity of troubleshooting and optimizing data operations.
Designed for modern data stacks and supported on all major cloud and on-prem platforms, Unravel is uniquely suited to provide a single-pane-of-glass view to manage single, multi, or hybrid cloud and on-prem environments. Unravel also assists in cloud migration assessment and planning.
Following is a video that explains the Unravel product.
Following are the primary Unravel solutions:
Unravel allows you to proactively manage your cloud spending with granular precision.
Quickly shows the precise overheads where your money is spent.

Gets AI to identify when you are overspending.

Provides tools to effortlessly avoid cost overruns, understand trends, set budgets, perform capacity planning and optimize for costs.

Drives accountability with granular chargeback by app, user, department, project, business unit, queue, cluster, or instance all in one place.

Gets automated detectors to track and eliminate rogue users and runaway jobs that affect cluster usage and cloud spending.
Unravel facilitates the development, tuning, and scaling of reliable data apps/pipelines quickly and efficiently.
Proactively optimizes apps and verifies code in minutes.

Helps you understand how your app will perform at scale pre-production.

Reduces the meantime to debug and resolve issues with automated root cause analysis.

Uses AI-driven recommendations to right-size your resources.
Leverages AI to detect anomalies and provide insights from raw metrics, which reduces the time to debug and resolve problems.

Empowers team members to fix more issues independently.

Frees up time spent on troubleshooting so the team can spend this time on other work delivering real business value.

Reduces time to detect and mitigate issues via proactive alerts and corrective AutoActions.
Unravel helps you assess your current on-premises data estate and forecast data migration costs and configurations accurately to ensure on-time and on-budget migrations to the cloud.
Accurately assesses your entire data estate in weeks, not months. Fully automated.

Guarantees that all the terms of the SLAs are met when you migrate to the cloud.

Ensures the cloud mapping with a reliable workload-by-workload plan.

Keeps your costs under control after migration with improved governance.
What makes Unravel Unique
Unravel captures and correlates granular details from every system in your data estate.

Out-of-the-box dashboards allow you to analyze data from across your entire data estate in a single pane of glass.

Cost 360 to understand trends, set budgets, and uncover cost optimization avenues. Access the precise data you need with interactive dashboards and reports.
Context is provided through metadata to get a clear and accurate view of data app/pipeline performance.

Correlated insights are presented for all factors that affect app performance, such as resource allocation, container utilization, poor configuration settings, task execution pattern, data layout, resource contention, and more.

Proactive alerts are on for applications that miss SLAs, violate usage policies, or affect other applications running on the cluster.
Unravel integrates seamlessly with all major cloud platforms and on-prem platforms. Unravel connects to your entire data stack with enterprise-grade scalability and security.
Unravel is committed to security and focused on keeping our clients and their data safe. The solution designed by Unravel manages customer data based on the five SOC trust services criteria — security, availability, processing integrity, confidentiality, and privacy. Unravel is compliant with SOC 2.
Unravel works in three stages to operationalize your systems and eliminate issues.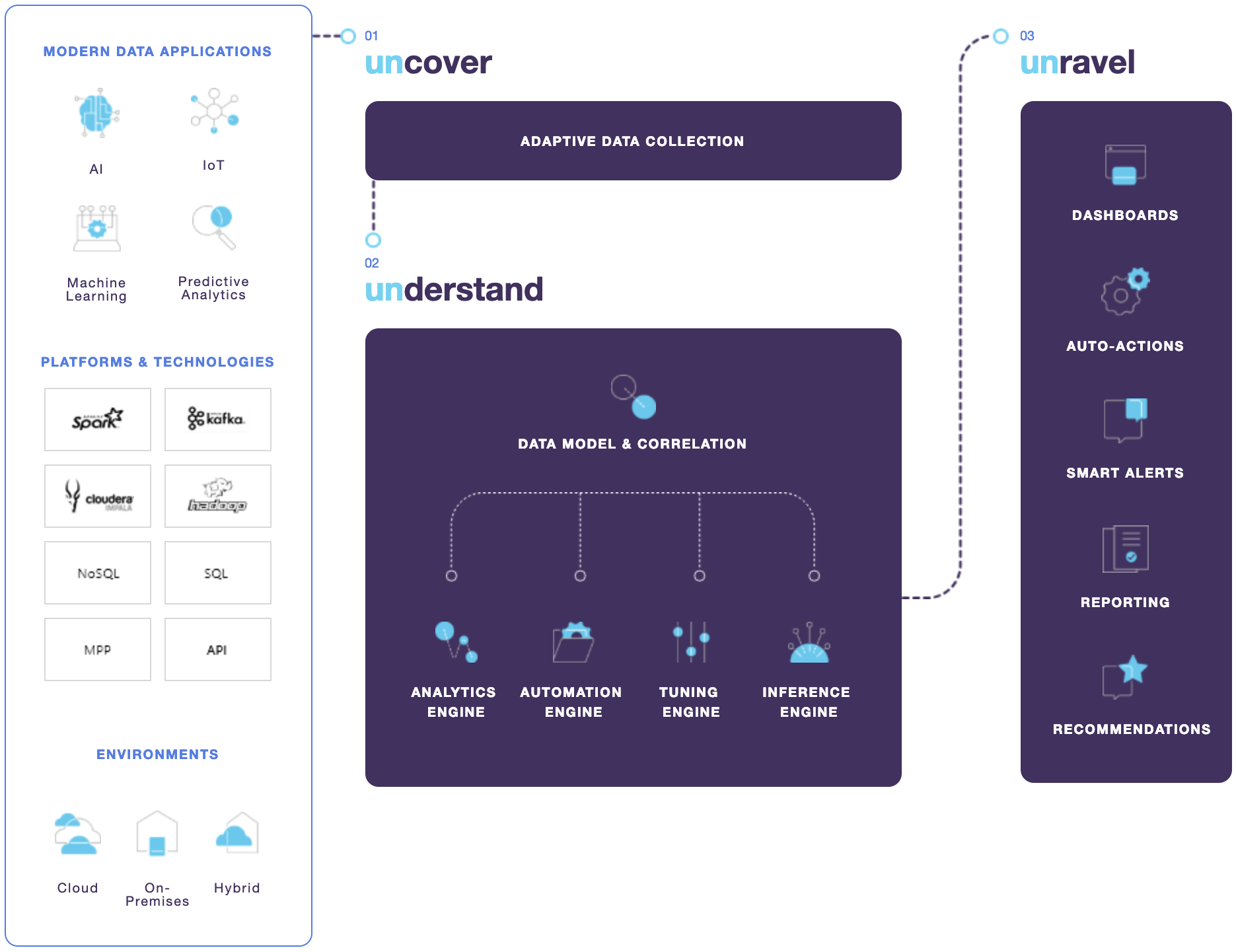 Unravel gathers metadata from every platform, system, and application to give you a unified view across the entire stack.
Using the gathered data, Unravel builds and analyzes a fully correlated model of your environment that provides the full context you need on your apps and resources to plan, manage, and enhance performance.
Unravel's data operations platform leverages AI and advanced analytics to offer actionable recommendations and automation to help you tune, troubleshoot, and improve performance. You can optimize resources and allocations, eliminate inefficiencies, improve capacity planning, and lower costs.
Unravel supported platforms
Unravel software can be deployed anywhere, on-premise platforms or cloud platforms, in single-cluster or multi-cluster deployments. Currently, Unravel supports the following platforms:
Databricks (Microsoft Azure, Amazon AWS)

Amazon EMR

Google Cloud Platform (BigQuery, Dataproc)

Snowflake (coming soon)
Cloudera Data Platform (CDP)

Cloudera Distribution of Apache Hadoop (CDH)

Hortonworks Data Platform (HDP)

MapR